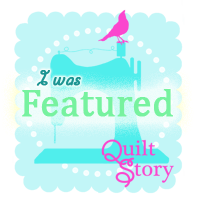 Remember this quilt?
Well it's being featured today over on
Quilt Story
! How cool is that? Hop on over to Heather and Megan's
awesome blog
and check it out! And stay tuned to tomorrow when I reveal my first finish in the Amy Butler
"Little Stitches" Sew-Along
. It's never to late to join in the sew-along fun hop on by and link up any time!