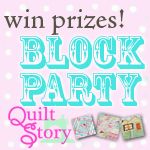 So I've decided that I'm going to enter a couple blocks in the Block Party Challenge over at
Quilt Story
. There are three categories for blocks: Traditional, Modern and Creative. So I thought, "What the hell, I'll enter something!" So here are my entries...
I chose this Laced Star Block that I made in the Red & Aqua 2 Bee. I love the fabrics and although I abhor paper piecing I do love the end result. Sylvia requested this block from us and we used
this pattern
.
My Plaid Block that I made for Leah. I completely adore this block and I really want to make more. The tutorial for this block can be found
here
on the Block Party blog.
This was tough but I settled on an improv block I made in the Sewn Together Bee. All the circles are hand stitched onto the block.
If you want to show off your fancy blocks you still have time. Head on over to Quilt Story and get in your entries. The Block Party is open until tomorrow so run don't walk! Oh and they have fabulous prizes for the winners!